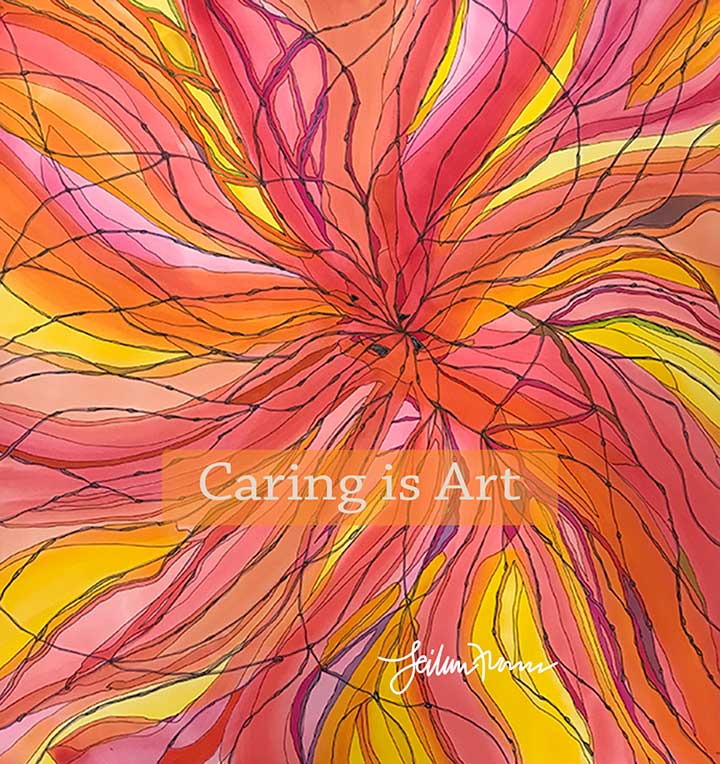 Visit CaringisArt.com
Caring is Art offers words of encouragement, quotes from fellow caregivers, useful resources, and self-care prompts, all accompanied by beautiful imagery. Artist and former caregiver Leilani Norman offers a gift of thanks to dementia caregivers everywhere through this journal.
Published by sisters Leilani and Olga Norman, this guided journal features original paintings, photography, and illustration. It can be used as a personal journal, a notebook for important information, a reference log, a doodle pad, or anything in between. Caring is Art makes a lovely gift for caregivers from family and friends.
A portion of profits from sales benefits non-profit organizations that provide support to caregivers of persons with Alzheimer's Disease and other forms of dementia.
friends & family
Caring is Art is a platform to promote growth and human potential. Its mission is to support, inspire, and provide curated resources to our community of caring people.
Every one of us will be a caregiver, a care recipient,
or both during our lifetime.
​In 2020, researchers found that about one in five Americans are unpaid caregivers, totaling 53 million, an increase by 9.5 million from 2015.​
About the Author:
Leilani Norman completed a twenty-year arc of support to her parents when her mother died in late 2021. Leilani is a volunteer with Dementia Support Northwest of Bellingham, Washington. She holds a certificate in Gerontology from the University of Washington and a BA in Psychology. Her interest in caregiver self-advocacy through nutrition and wellness are the bases of two academic papers she wrote, "Connecting the Dots: Nutrition and Cognitive Health" (2020), and "Optimal Caregiving: Fostering Cooperation Between Direct Care Workers and Residents' Family Members" (2021).